 About – Lab Split Craft Brewery
LAB Split Craft Brewery is the first brewery coming out from Split, Croatia. We are proud to be among the fist to offer uncompromising beer to the people in Croatia. Our moto is to help others grow and raise awareness about craft beer in general. Follow us and help us spread the love for hops, esters and maltiness of a great beer.
If you happen to enjoy one of our beers in a stunning location… make sure to drop us an image to our FB or Untappd!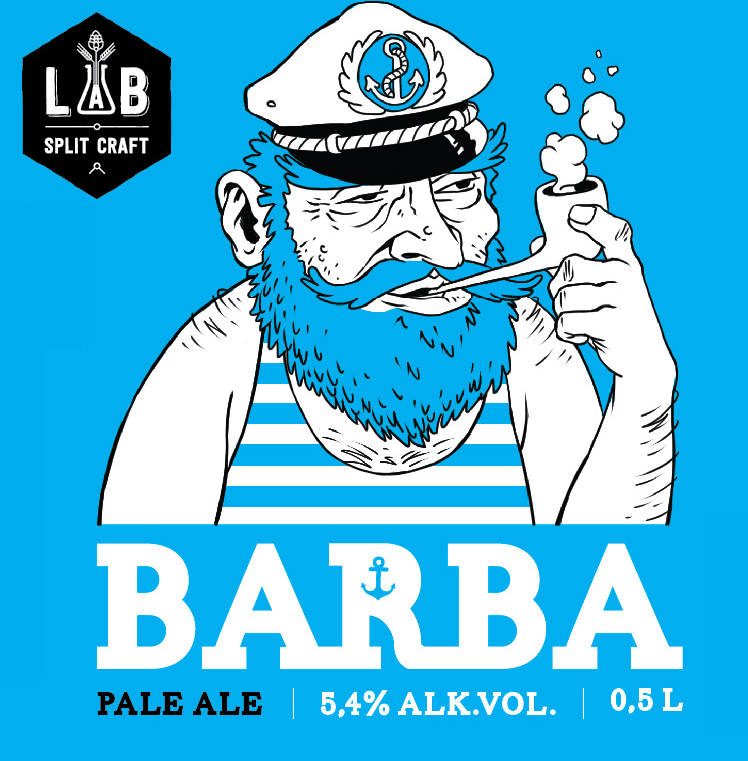 Lab Split – BARBA PALE ALE / 5,4% ALC / 45 IBU
BARBA PALE ALE is our first beer we ever made, it is also out headlining beer and a main seller. BARBA is made to be an summer ale, very drinkable, touch of zesty bitterness on top of light caramel body. Turns out BARBA is not bad during winter either!
If you know your hops, you will be please to know we are using only the best! Columbus, Chinook and Centennial are making this beer stand out. Each hop is carefully balanced to offer blend of aromas each can provide.
Centennial – Medium with floral and citrus tones,
Chinook – Mild to medium-heavy, spicy, piney, and grapefruity,
Columbus – Earthy, citrus & spicy.
LAB Split
This is an map showing all hiding places BARBA has used!
Facebook Feed
LAB Split - Craft Brewery shared Beckers Craft Brewery's post.
4 weeks ago
Beckers Craft Brewery
Kada pijete pivo na kojem piše rok trajanja godinu dana, zapitajte se šta pijete. Pivo je jako osjetljivo na visoke temperature. Pogotovo pivo koje je nefiltrirano i nepasterizirano, ono u kojem ima puno hmelja, okusa i mirisa. Edukacija ugostitelja je ključna stvar da bi do svakog potrošača pivo došlo u onakvom stanju kakvo je izašlo iz pivovare. To nije mala stvar, pogotovo preko ljeta. I trebaće još puno vremena. Stvari idu na bolje. Pijte lokalno pivo jer su ta piva najsvježija i najbolja. I obavezno pročitajte šta ima reći na tu temu profesor Charlie Bamforth.
Živjeli
http://www.brewsnews.com.au/2017/07/nine-month-best-before-dates-ridiculous-says-beer-professor/
Kontakt
L.A.B. SPLIT društvo s ograničenom odgovornošću, za trgovinu i usluge
Skraćeni naziv: L.A.B. Split d.o.o.
Ante Petravića 33
21 000 Split
mail: info@lab-split.com
OIB: 04290814979
MBS: 060336312
Godina osnivanja: 2015.
Žiro-račun: HR5624840081107493446 (Raiffeisen Austria d.d.)
Temeljni kapital u iznosu od 20.000,00 kn uplaćen u cjelosti, Trgovački sud u Splitu, Tt-15/7683-3